Kyle and Karen's House Addition Project
Home | Addition Project | Previous Page (grading phase) | Next Page (roofing and siding)
The concrete pour was very flat and super smooth; the concrete was excellent. Now we need to build a building on top of it. Below are the pictures of how the framing is progressing. Click on the images to see them larger.
Framing Begins 01/19/04 (Day 24)
Walls 01/20/04 (Day 25)
I had to take these pictures at night. Not my best work. You can start to see how the garage will look.
First Floor Takes Shape 01/21/04 (Day 26)
We love this part of the project. The framing is going at a great pace. It is now taking form and we can start to see how it is really going to look.
Second Floor Transition 01/22/04 (Day 27)
The beam is 16" tall and 4" wide. It is constructed of a "glue laminate" composite of plywood. The joists are 2x10s on 12" centers. This large lumber is what allows us to go 44 feet in length and 24 feet in width with only one support in the center.
Second Floor Transition 01/23/04 (Day 28)
The progress is great. Things are really coming together nicely.
Nature The Mother 01/25/04 (Day 30)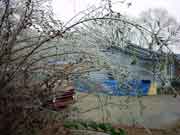 Ice Storm
Then it all came to a grinding halt. We had rain, then an ice storm, which delayed us for a few days.
Second Floor Takes Shape 01/28/04 (Day 33)
It barely thawed and we got back to work. As you can see, we started on the 2nd story walls today.
Second Floor Nearly Complete 01/29/04 (Day 34)
Now we have four walls on the 2nd story. The old house soffit was cut off and the upper floor walls have been joined to the house.
Roof Trusses 01/30/04 (Day 35)
The roof trusses went up today. Kyle took the "Rafters At Sunset" picture tonight just for some artistic fun.
Finishing Framing 02/12/04 (Day 48)
We have had tons of rain the last few weeks. It has slowed down progress. Rain has been leaking in the house due to the unfinished saddle and the upstairs and downstairs of the addition have been soaked because of the lack of a roof. But now they are finally able to get on the roof, so hopefully they can make the whole place a little more dry during the upcoming rain.
Home | Addition Project | Previous Page (grading phase) | Next Page (roofing and siding)